By my three main criteria, Summer is
definitely
here:
1) Memorial Day was 4 weeks ago, 2) the Summer Solstice occurred on June 20th, and 3) if you're a Milwaukeean or Sconnie you know this--the Big Gig is here. The self-titled "World's Largest Music Festival". Ah, of course, I'm talking about
Summerfest
!
I looked at the scheduled lineup this year and was impressed. There are many acts of which I am a fan. These include Foo Fighters, The Avett Brothers, ZZ Top, Steve Miller Band, Ben Folds Five, The Hives, Scorpions (The Scorps!), Red Hot Chili Peppers, The Head and The Heart, Trampled By Turtles, Joe Walsh, Robert Randolph and The Family Band, Bob Mould performing "Copper Blue" (a favorite album of mine), 311, Fountains of Wayne (questionable; their last record blew), Bodeans (of course; I know
all
of their songs!), Mat Kearney, Zac Brown Band, Iron Maiden, Alice Cooper (Coop!), Young The Giant, Death Cab for Cutie, Grace Potter and The Nocturnals, Fitz and The Tantrums, Cake, Aerosmith, B-52s, Bush, and lastly--the Jewish Elvis!--Neil Diamond.
Whew. That's just from a quick once-over of the schedule! And I was only looking at bands in
bold
type. I
know
there are local bands that I'd like to see too. Local sisters
Vic & Gab
come to mind (I know they're on the schedule somewhere, but I'm not sure on what day).
As the fest approaches, I've been asked numerous times, "Have you got your Summerfest schedule all figured out?"
Yeah, I'm seeing Neil Diamond on the final day of the 11-day music romp. At the main amphitheater--where I bought a ticket
and
have a seat, but that's probably about it.
"Why only Neil?" you may wonder.
Because as much as I enjoy Summerfest--and I do, immensely--as a place to actually enjoy top-name entertainment, it's the pits. I'd much rather pay to see one of the above acts when they're traveling through Milwaukee and playing at one of our
sweet
music
theaters
.
For example, if you know only one thing about me, you probably know that I am a HUGE fan of the band
Wilco
. I've seen Wilco six times: three at Summerfest (a different stage every time) and three in theaters (a different theater every time: Madison's Overture Hall and Milwaukee's Pabst and Riverside Theaters). My three experiences at theaters were fantastic; my three at Summerfest sucked.
Wait. Did I forget to capitalize "sucked" for emphasis? I did. Let me correct that ...
SUCKED.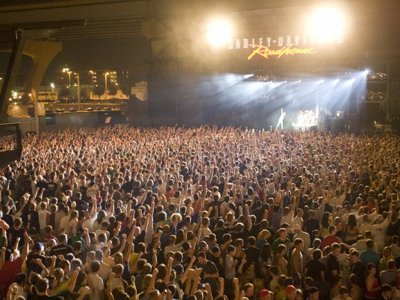 Once a headlining act takes the stage, every person stands on the benches which are meant for sitting. If you're lucky enough to have grabbed a chunk of a bent, rickety aluminum bench, you might be able to stand on your tiptoes and peer between the giant heads of the seven pucca shell necklace-wearing dullards stumbling on and off the benches in front of you just to see the top of the head of the saxophone player occupying the far left corner of the stage. Of course, you've got fight, too, to maintain this precious 13" of metal space and be prepared to defend it 'til the drummer finally throws all of his (or her) sticks into the crowd at the end of the second encore.
Horrible. This is not just the 45-year old Mike's opinion. I had this opinion of the Summerfest musical experience when I was 21 years old. Why is it that we can split an atom and land a remote-controlled 4x4 on Mars, but Don Smiley and crew haven't figured out how to remove the benches within the first 25 yards or more of the front of the stages? That would allow people attending the daytime shows a place to stand, watch, dance, and then later, compress the number of people who occupy the space in front of the stage for the big name shows? Leave the benches and tables for people to stand on farther away from the stage. At least people that stand on the seats farther away will at least be able to see over the people that are standing on the pavement.
From what I've heard, the new BMO Harris Pavilion addresses a lot of these issues with a new seating arrangement and a sloped spectator area. Let's hope so.
I may come off as a curmudgeon in the above few paragraphs, but here's what I really enjoy about Summerfest: going early on a sun-splashed hot day, enjoying a few cold beers, strolling around and watching surprisingly good, unheard-of talent. I've seen some
great
musicians during midday performances that have really blown me away. Then, when everybody piles into the grounds to see the bigger names, I slip out the main gate and find myself a nice seat in an air-conditioned restaurant or pub. Why not? They're empty and could use the business.
Some year, I'd like to take off every working day during the fest and hang out there all day just as described above. I'd really enjoy that, but in reality, I'm quite sure that will never happen. I get 10 days off a year--I'm not going to burn 'em all on Summerfest! I've got other places I've got to go (Prague, I'm looking at you).
Tomorrow it all starts. I work only blocks away from the grounds and I'll burn with envy as summer revelers stumble past my window on their way to do what I most would like to do a day off in the next two weeks: rock out with my golfer's tan out along the beautiful Lake Michigan shoreline with a cold, albeit over-priced, malted barley beverage in my hand.
If you go, have fun, be safe, and remember--at the fest, or anywhere else for that matter--don't be a dick.